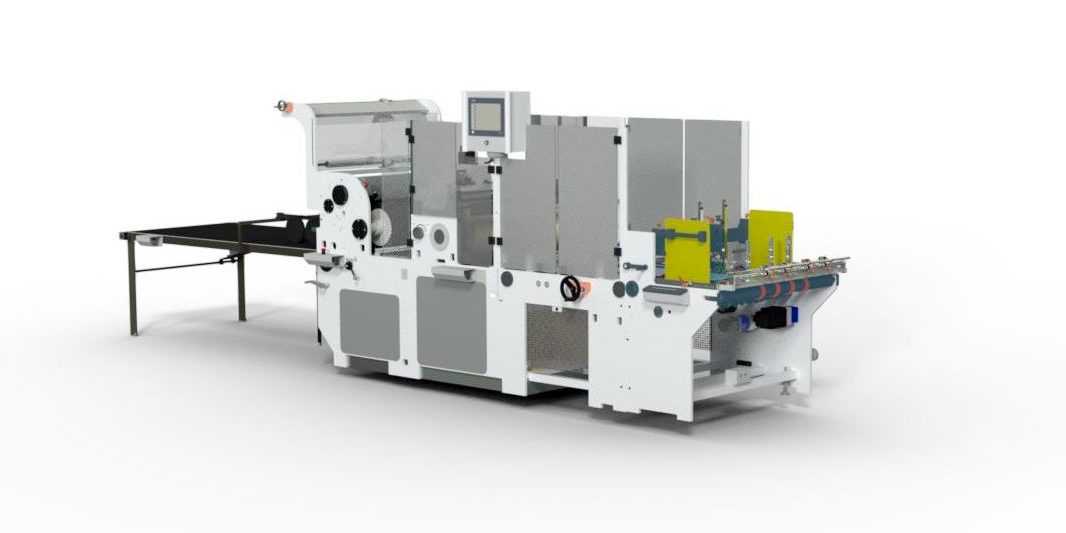 The carton feeder can be switched on and off independently. The feeding length of the cover is set via the main screen and can be stored for repeat orders. Thus, a significant reduction in setting time can be achieved. The automatic suction air control is carried out by the PLC control of the machine and is programmed via the main screen. It processes carton and corrugated board up to 6mm thick.
A gluing cylinder with stereo rubbers, allows the glue to be applied with regularity and uniformity. Different stereo rubbers are available and can be re-used for identical productions.
The gluing station is made of two removable lateral scrapers and 1 main scraper. They limit the glue quantity which is necessary for the blank size. The station is easily and quickly cleaned (about 5 minutes). One I.R. sensor detects the presence of carton blanks. It automatically activates the lowering of the stereo cylinder to apply the glue to the blank. The stereo cylinder will automatically rise if a blank is missing. Thus preventing glue from being applied to the vacuum belt.
The station uses servo-drive technology. It allows the cutting of windows from rolls with very precise window lengths.
Electronic 3up permits a fast make ready thanks to electronic compensation on the chains station. This station is easy to operate and allows parameters to be changed while the machine is running.
The pick and place station is composed of four carbon rotary arms which guarantee high speed and accuracy for gluing pre-cut and pre-creased windows.
Leader in pick & place systems (patented) since 1990, our advanced technology allows the management of different products and thicknesses (PVC, PET, foil, book, handle, silicon band, carton blank, card, etc.).
Cardene 2 : Rotative scoring and creasing system
The rotative unit allows accuracy and high speed (non-stop system), the plastic scraps are ejected by suction.
Only one tool size is needed for all the different window formats. This tools allow a new design of perforation and crease : U-shaped (patented).
The trio-fold unit allows the machine to split the carton in half (or three parts) in order to produce Trio-fold boxes (a four panel window).
Speed : 20.000 products/hour (1 stream)  –  40.000 products/hour (2 streams)
Registration : +/- 1mm
Carton blanks
Min : 120 mm
Max : 1048 mm
Min : 105 mm
Max : 1000 mm
Min : 0.25 mm
Max : 6 mm
Film
Min : 40 mm
Max : 720 mm
Min : 30 mm
Max : 840 mm
Min : 0.02 mm
Max : 0.35 mm